Latest Reviews First
GLENN CARDIER
COOL UNDER FIRE
Independent
SINGER/SONGWRITER-ROCK
Samuel J. Fell
Rhythms Magazine 2016
Glenn Cardier's new record is a pearler. At his masterful story-telling best, Cardier takes the listener on a journey through his younger days, recounting tales of his old neighbourhood, his old life, set to a score that clips and weaves and sets the scene in a way that only this man can.
Cool Under Fire throbs with a dark resonance in parts, it soars in others, Cardier bringing in a range of influence (there are strains of Tom Waits in there: some of his vocal delivery is very reminiscent of Bob Dylan; some of the arrangements are pure Beatles), but he does it in his own way. a kind of rakish, devil-may-care delivery that does nothing but pull you in and make you feel damn good about it all.
With some stellar instrumentation from Rex Goh (guitars), Phil Grove (keys), Mick Malouf (upright bass) and Dave Faster (percussion), along with solid backing vocals from Rhythms' own Catherine Britt and Niksta (not to mention great use of horns courtesy of Tony Gibson. and cracking harmonica from Christian Marsh), Cool Under Fire is a sure-fire winner, as you'd expect from a man who is himself, cool under fire.
Glenn Cardier - Cool Under Fire
by Anthony O'Grady
4.5 stars
It takes a great band to play a song from the inside out but Glenn Cardier's Sideshow, headed by stellar guitarist Rex Goh, has the finesse and fire on the title track of Cool Under Fire, where impressionistic power grooves and Cardier's staccato delivery convey a punk swagger and fear. The Sideshow's core (Goh, Phil Grove (keyboards), Tony Gibson (brass) and Dave Fester (drums/percussion) aptly backed Cardier on 2012's Stranger Than Fiction, but here players and singer-songwriter are fused.

The album channels Cardier's teen memories of working-class postwar Brisbane suburbia, influenced by American cinema, fashion and music culture. The song and video for A Case of Mistaken Identity is a caper through the prism of film noir — a reflection of postwar pessimism — set to jittering bass and cinematic stings.

Grove's elegiac organ expresses the churn of a prodigal's return on Welcome Home, Johnny-Oh. There's the helter-skelter Hollywood dreaming of I Wanna Know and the rockabilly-on-steroids of Good to Go. The oompah of Cold Light of Day and the brass and piano pound of Win Some, Lose Some signify new characters, different emotions.

The album's most remarkable pastiche is Impersonation of the King, a channelling of the 1950s obsession with Elvis Presley — "the dream you grew up on" — while referencing Bob Dylan.
Within the tumult of these times Cardier found the touchstones of his adult life. The Day I Fell in Love With You and Rise and Shine are heartfelt pledges to the idylls of love and fatherhood.
Cool Under Fire
by Glenn A. Baker
It isn't just that he has a fabulous first name (and spells it correctly), or that he played a significant role in my early concert promoting years (and thus, could well be my longest-standing mate), it is his sheer bloody artistry and truly mesmerising performances that has me echoing what Keith Glass once said in Rhythms magazine: "Glenn Cardier is our finest contemporary singer- songwriter BAR NONE". The Sydney Morning Herald has hailed his ability to deliver "Some of the finest songwriting this country has produced", while The Australian has celebrated his "Mellifluous timbre and wry observant rhythms". I once heralded one of his 11 albums with the praise: "Enigmatic, compelling and insightful songs - a sweep across a musical terrain that could only be his own, one full of twists, turns and textures."
Periodically he graces us with albums of extraordinary originality - which draw acclaim from all over the world. Backed in recent years by his terrifically textured Sideshow, led by guitarist Rex Goh, he is now mining a rich vein of creativity which throws up stark images and characters, the ghosts of a childhood well observed. The songs on his last album, Stranger Than Fiction, conjured up a theatrical mood, which the newest outing Cool Under Fire takes us into a film noir world inhabited by the the likes of Lauren Bacall and the cool Johnny-Oh. Along a wrong turn to a grand old place with dust on the chandelier and gold pain't peeling' where the last jukebox, still with a spark of electricity, ekes out ethereal sounds in the dark of night.
Cool Under Fire
Stuart Coupe
Glenn Cardier has been making records since the 1970s. I loved the early ones, missed a whole bunch of the next ones and am starting to think that was a mistake.

This is his new one and it's a revelation.

Imagine an Australian version of Warren Zevon - smart, clever, pithy lyrics and a dry, sardonic delivery.
(Stuart Coupe, author, DJ)
Cool Under Fire
John Hardaker
Album Review: Glenn Cardier/Cool Under Fire
Posted: July 27, 2016 in Album review: rock

It was a couple of Byron Bay Bluesfests ago when I came across Glenn Cardier again. Seeing his name up, I had made a point of checking him and his crack band, The Sideshow in one of the smaller festival venues. I'm glad I did – apart from being up close to the band (I am quickly losing enthusiasm for the huge tents and screens), I was mesmerised by Cardier, in pork pie and shades, front and centre, growling his strange songs, his acoustic guitar driving the band and the crowd.
I had been a fan in the 70s. Glenn Cardier always stood out to me, seemingly of a different tribe than the grizzled 'young fogeys' who made up the singer-songwriters of the times. Apart from the freak-cabaret whiff of his bowler hat, Lennon specs and waistcoat, his songs seemed wryly funny, yet dark. And always entirely original.
After seemingly bobbing up on every festival bill and touring the world with that other existential jester, Spike Milligan, Cardier retired for 25 years. In early 2002 he returned to low key gigs, and now has given us his fifth album since his 21st century resurrection, Cool Under Fire.
Recorded almost entirely by himself, with the help of some heavy friends such as Sideshow (and everywhere else) guitarist, Rex Goh and country darlin' Catherine Britt, Cool Under Fire is a rich helping of what we love about Cardier. The songs are wry and droll, many illuminated with a cinematic glare or dark-street noir. The humour is there – the hilarious pulp detective 'A Case of Mistaken Identity' and the everyman-Elvis of 'Impersonation of The King'; a lot of it, of course, dark and world-weary, such as 'Cold Light of Day' (a Weimar gypsy lurch, tipsy as Kurt Weill).
There are the Pop smarts that raise a writer like Cardier above many of his genre: 'Win Some, Lose Some' is loaded with hooks and the harmony of 'Welcome Home, Johnny-Oh' is a darker shade of 'A Whiter Shade of Pale'. And of course, commensurate with Cardier's novelistic approach to lyric, there is romance – the romance of rock'n'roll with its cars (gotta be Cadillacs, Jim), sexual heat and girls girls girls ('She had bumper-bullets that would do a Cadillac proud') but also sweet, everyday romance of the sort that keeps your average, jobbing muso existential jester going.
'The Day I Fell In Love With You' is perhaps one of the loveliest, most unadorned love songs I have heard for a long time. Here, Cardier reminds me (not for the first time on the album) of the late American singer Warren Zevon. Cardier, like Zevon's in his tender moments, is happy to drop artifice and cleverness if something needs to be said plain and simple. This country simple approach raises a smile in 'Loretta' and lifts the heart in 'Rise and Shine' – a song of hope.
But it wouldn't be Glenn Cardier if he didn't leave us with a wink, and a shadow-play and maybe a twinge of loss. 'The Last Jukebox' seems set in a post-civilisation Mad-Maxscape, all dust and empty desert winds. It seems dark, listless – with all hope fading out to a pale glimmer. And yet:
"Only one thing left to do – Only one thing left to do – Come on now, come over here, It's gonna be alright –
Only one thing left to do. Dance."
Cool Under Fire
by Bernie Howitt, No Depression
Life's a journey, and great music helps you take that journey. Glenn Cardier's life journey has contained all the dark routes and sun dappled paths captured in his latest release, "Cool Under Fire." From a rockabilly infused adolescence in Brisbane, through the great folk boom, the original Sunbury rock festival, and a mid – 70s London sojourn funded by the Federal government, Cardier carved a unique place in Australian music. Then he disappeared.
In 2002 a tentative comeback led to "Rattle the Cage," a growling, bluesy set of songs that sounded as if they'd emerged from a Hawkesbury River swamp via the Mississippi delta. "Cool Under Fire" represents the 5th new album in a resurrection that has seen Glenn Cardier win a reputation as the greatest roots singer/songwriter working in Australia today.
Every twist, turn and diversion in his life is reflected in the journey on "Cool Under Fire." From the opening title track to the haunting undertones of the closer, "The Last Jukebox," Cardier draws you into his world, peopled by dark characters, last chances, redemptive love and Elvis impersonators. One listen and you're drawn in, quickly realising that we're all heading towards that last jukebox. Unlike earlier Cardier efforts, which were largely self-contained, this is very much a band record. Cardier and his band The Sideshow have blazed a path through Australian festivals over the last few years. Their refusal to be defined and categorised is reflected in success at shows as diverse as Byron Bay's famous Bluesfest, the Gympie Muster, Sydney Blues Festival, National Folk Festival in Canberra, and Thredbo Blues Festival. That experience has helped create the strongest sound yet found on a Cardier release.
The opening title track creates just the right amount of edgy darkness to draw you in. Catherine Britt's vocals add menace to the driving blues sound that starts our shared journey. "A Case of Mistaken Identity" is 1940s LA gangster noir. The ghost of Perry Mason haunts the brass and harmonica breaks, as the journey looks backwards, fearful as the past races to catch the present. "Welcome Home, Johnny-Oh" takes us there, as Johnny-Oh gets dropped off, facing forward, a survivor, his survival celebrated with a some triumphal keyboards and brass giving hope for the days ahead. "I Wanna Know" rocks us into "Impersonation of the King," where Cardier continues his lifelong Elvis fascination, this time from the perspective of an Elvis Impersonator. Just one of the many characters we encounter in our journey towards that last jukebox.
Although he can create a hard boiled world of dark villains, Glenn Cardier has also written some of the most beautiful love songs imaginable. Gossamer thin, capturing the essential fragility of any relationship, "The Day I Fell In Love With You" illuminates the darkness, giving all good people the strength to journey on. Love presents the opportunity to wax philosophical. After all, we all "Win Some, Lose Some." Here it becomes a celebration, with the "bah, bah, bahs" echoing a time when we were all happy together. Sooner or later though, we all have to confront the "Cold Light of Day." With a rhythm that echoes circus days and lonely nights, it helps get the old car started as Cardier's rockabilly youth blasts through. All's good, we're "Good to Go" as Rex Goh's lead breaks send us hurtling towards our ultimate destination.
Just a couple more stops on the journey, meeting another of Cardier's cast of eccentrics, "Loretta," who "drinks to the apocalypse, but not a drip falls from her lips." Cardier summons all the tenderness imaginable as he calls on us to "Rise and Shine." He's brought us to our final destination, caressing us with love and memories of childhood, before taking us to "The Last Jukebox." He tells us we've taken a wrong turn, but he's been our guide. We've all ended up in this ghost town, looking at what just might be the last jukebox. Cardier wonders how the hell this thing's still got electricity, but somehow it's lighting up for us. At the end of such a powerful and thought provoking journey, in true rock'n'roll fashion, he tells us that really, there's only one thing left to do, dance. As the world appears to teeter on some sort of apocalyptic chaos, perhaps Cardier has got it right. After all, there's no terror in dancing.
This is a powerful album that draws you deeper and deeper with every listen. It is Glenn Cardier's finest release, and with a catalogue like his, that is really saying something.
Cool Under Fire
Audio Technology
Look what turned up in my post box this morning!! It's been the soundtrack to my drive to and from work today, and, with a 4 year gestation period, what a magnificent piece of work it is!!

It's going to be the soundtrack for a few days to come, and that's in the face of some stiff competition from some exquisite new albums I've just started listening to, including the new ones from Mary Chapin Carpenter & case/lang/veirs!! With influences ranging from Eddie Cochrane through Little Richard, Bob Dylan and Bruce Springsteen, this is, unmistakably, the inimitable Glenn Cardier!!
Recorded in his mudbrick home studio on the Hawkesbury River, north of Sydney, featuring contributions from a star studded line up, including members of his live band, the Sideshow, this remains, however, a tour de force from Glenn himself. On the 12 originals on this album he plays most, and occasionally all the instruments, sings in that everchanging but distinctive, time weary voice, and pins you to the wall (or your seat, if you're driving) with the depth of his songwriting, arranging, playing and singing, not to mention the very capable & professional nature of his audio engineering!!
In this late career revival (post 2002), Glenn has emerged as a premier rock music stylist, up there with the likes of Paul Kelly, Bruce Springsteen, Robert Forster and Bob Dylan himself, still firing on all cylinders after all these years!! He is, BTW, although he left many years ago, a genuine born and bred Brisbane lad!!
You can buy this album, and his previous albums, at www.glenncardier.com and iTunes.
(Ian Dearden - songwriter, Audio Technology reviewer)
GLENN CARDIER
OLD HAUNTS (THE LOST SONGS 1972-1979) MGM
by Trevor J Leeden, Rhythms Magazine Sept 2013

Touring with Spike Milligan and opening for the likes of Harry Chapin, Frank Zappa, Sherbet, Cheech & Chong and Manfred Mann's Earth Band is not the CV of your average musician, but then Glenn Cardier is not your average troubadour.

Without any doubt the most articulate and creatively insightful singer-songwriter in contemporary Australian music, Cardier has always done things on his own terms. He gave it his best shot throughout the '70s, completely hung up his six-string for over twenty-five years before a 'comeback' in 2002 that has thus far spawned four outstanding albums.

Now, an old box of tapes under a bed has provided an illuminating insight into the development of this singular talent - and what we missed out on first time around.

The 42 performances (plus four 2013 home recordings of early songs never previously committed to tape) have never been previously released but provide a road map that starts in late '60s Brisbane and informs much of Cardier's music today.

It's a surprise to hear the high-pitched vocals on his earliest recordings (Secret Sound), his unique phrasing and vocal timbre still to be fully developed. There are reminders of his influences in songs such as 'All Our Neighbours' (Randy Newman) and the sublime 'Scarecrow' (Dylan), and the irreverence (Milligan) and the sardonic humour (Wainwright) reflected in recent albums is prefaced in 'I Hate Girls' and 'I Am Your Salesman'.

Dave Pegg features on 'Dance Numbers' (a song now synonymous with Pegg, Fairport and Cropredy Festival), and is a reminder of the lofty company he kept whilst in England, rubbing shoulders with Dave Swarbrick, Sandy Denny, Trevor Lucas and other folk luminaries; 'Not Everybody Gets To Know' is a rarity in itself, coming from a 1971 GTK performance - those were the days.

Too often we hear of "lost treasures" which would be better left unearthed. Old Haunts is a 24 carat diamond in the rough, a fantastic listen, a priceless and previously unheard document from the glory decade of Australian music.

Best of all, Glenn Cardier is still very much around to not only tell the tale but also adding new chapters - strictly on his own idiosyncratic terms of course. Essential listening.

On other sites:
OzTrax - She's The One For Me
OzTrax - Strangers
Jam - Hornsby Kur-ing-gai Folk Club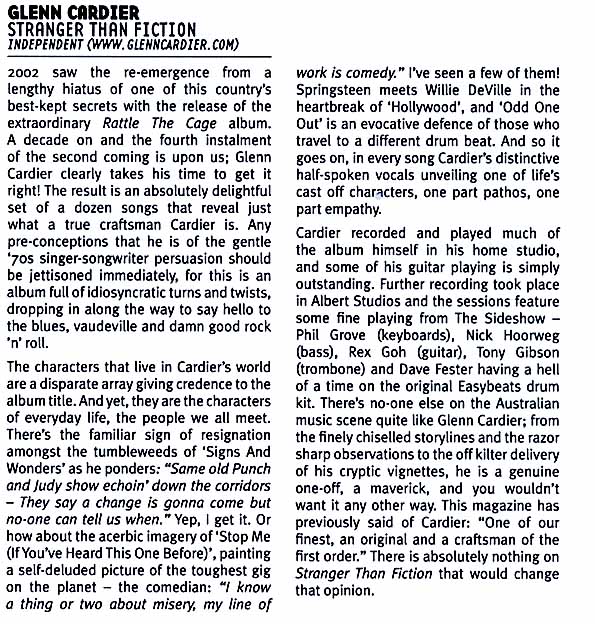 by Trevor J Leeden, Rhythms Magazine July 201Glenn Cardier & The Sideshow received a 4 STAR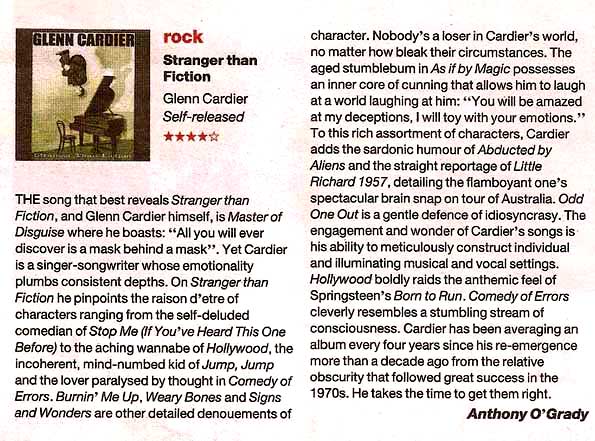 Australian!!! (Sat 26/5/12)
Music DVD
Underappreciated…Glenn Cardier
Glenn Cardier and the Sideshow
Live At Lizotte's
Extras Interview, CD of concert
Greg Hassall (The Guide, SMH 5/10/09)

The music industry is a fickle business and few have felt its cold shoulder more emphatically than singer-songwriter Glenn Cardier.

He had brief success in the early 70's with intelligent, delicate songs that suggested a cross between Bob Dylan, Leonard Cohen and Tom Waits. As the decade went on he toured with Spike Milligan, had a song covered by Olivia Newton-John and, improbably, wrote the B-side to the 1978 novelty hit C'mon Aussie C'mon.

By the early 80's he was reduced to playing suburban pubs and a video from around that time casts him unconvincingly as Australia's answer to Elvis Costello. Then he gave it all away.

More than 25 years passed before he picked up a guitar again. Over the past decade he has released three albums and it is songs from these that feature in this superbly recorded live gig. Backed by a crack band, Cardier gives full vent to his gruff, bluesy side in songs such as Asylum Blues and Shing-A-Ling. But his introspective, Cohen-esque side is also in evidence on songs such as She Flew Away and Invisible Ink, which he performs more or less unaccompanied.

Of perhaps greater interest than the live concert is the interview with Glenn A Baker that appears in the extras. With live snippets of songs from across his career and a wealth of archival material, it places Cardier in context and finally gives him the recognition he deserves.
Glenn A Baker, Author/Rock Historian
'Glenn Cardier has been writing and performing moving, insightful, powerful and important songs for more than thirty years. His intriguing evolution has given us something like a cross between John Prine and John Lee Hooker.
With captivating presence, a commanding vocal style and a gloriously perverse point of view that produces songs which take firm hold and linger long, he comes dangerously close to being certified as a national treasure.'
Bruce Elder, Sydney Morning Herald 5/4/08
Glenn Cardier has been around on the edges of the mainstream Australian music scene since the early 1970's when he worked mainly in the folk circuit. Over the years he has gravitated towards the blues and found his own very distinctive mode of gruff delivery.
With Exiles From Eden he has delivered his best album ever. Good lyrics, interesting and original music, simple but effective arrangements. It is characterized by some of the finest songwriting this country has produced.
Life Of The Party is a haunting, menacing tour de force. Angelica is one of the most interesting R&B compositions you'll hear anywhere - very unusual and very clever. Watch Out (Love Gonna Getcha) is so delightfully swampy it could be covered by Tony Joe White and Invisible Ink is a magical ballad that lyrically draws a clever parallel between kids' games and adult secrets.
This is a very good album from a musician who has followed his own original muse without compromise.
Anthony O'Grady (Weekend Australian) 12/1/2008
4 Stars!!!
Glenn Cardier was a leading light of Australia's early 1970s folk scene. He made two acoustic albums, did the wine bar uni circuit and played Sunbury twice. He used to be very confessional, sometimes uncomfortably so. What kept me listening was his mellifluous timbre and his wry, observant rhymes.
He was a long-term opening act for comedian Spike Milligan and his music had more than a tinge of Milligan's brilliant mania. These days, Cardier can get gruff with the blues but hasn't lost his silken acoustic touch. His music is rootsy blues and folk, now beefed up by power chords. His delivery is chanson, European style of declamation where emotion is enunciated with savoir faire.
On Exiles From Eden he's both vulnerable and tensile - open to life, with a wary eye for storm clouds on the horizon. Flash Guitar is an unsentimental story of a long-time love affair with music, Watch Out is growling swamp blues, Uncharted Waters is a gentle love song, and She's The One For Me has the album's most playful and delightful rhyme: "ghetto, falsetto, Rigoletto".
Keth Glass (Capital News Magazine) March 2008
Local lad GLENN CARDIER is first up with the second release since his re-emergence (he put out some highly sought after albums in the mid 1970's.) Once again he plays all the instruments (if I'm reading the notes correctly) and does an extraordinary job on every one to get the exact sound he is after. Roots music variety is the result. Every song has a distinctive arrangement with the distinctive tough but tender vocal of Cardier fleshing out lyrics that definitely have something to say.
From the lost love reminiscence of opener and title track Exiles From Eden to the surprise happy ending of Flash Guitar there is plenty here to sustain interest.
Glenn should be trumpeted as one of our finest, an original and a craftsman of the highest order. I don't see any such awards flowing his way but maybe the work is compensation enough. That is the way it should be for this quiet achiever - only make a big noise on disc.
Don't worry Glenn, they will come.
Old Haunts: The Lost Songs 1972 – 1979 Glenn Cardier
by Bernie Howitt, No Depression
In 1972 I was the first in my family to step into that exciting and liberating world of University. As a working class kid from the inner city this was upward mobility. It was a year that started with Billy McMahon and finished with Gough Whitlam. The times, they were a changin'.

That had been obvious when GTK, that precious 10 minutes of pop culture before 'Bellbird" on Channel 2 four nights a week at 6.30, arrived in 1969. This was something that spoke to me and gave me a window into a wondrous life that even made me entertain the possibility of university.

It was GTK that introduced me to Glenn Cardier. What I think was the first time I ever saw him, was this geeky looking little guy on GTK singing an incredibly beautiful song, Not Everyone Gets To Know. It was one of those songs that haunted you, but as was the way with GTK, it disappeared as quickly as you discovered it. It was another of those one off performances that exploded your heart, made you realise there was more to life, and cemented that lifelong love affair with everything that could be squeezed under that very broad umbrella called rock'n'roll.

Thus listening to that amazing collection of Glenn Cardier songs collected under the banner of Old Haunts brought back a veritable flood of emotion. There was Not Everyone Gets To Know, resurrected from the vaults of GTK and sounding as fresh and meaningful as it did when it briefly caressed my life in 1972.

Just think for a moment about an artist who can bury 46, yes count them, absolute gems, that have never found their way into the hearts of listeners before. Glenn Cardier has always seemed to live by the ethos I remember sticking on my wall at some stage in the 1960s; "let a man follow the beat of his own drum." Throughout the 70s he would produce treasured albums and make it worthwhile getting to big name acts early enough to catch him as the support. And he was there again when I went and saw Spike Milligan, obviously an incredibly brave man to share a stage with Spike at his maniacal best.

Looking back at my programme for one of those Spike Milligan shows, I see Cardier described as possessing "a talent for songwriting, a voice that is difficult to ignore and a rare insight into the things that make people laugh and cry." That is exactly what is on display in this outstanding collection of previously unreleased Cardier gems. The good news is that it's been worth the forty year wait to hear these glorious nuggets resurrected in a single superb package. It is supported by an extensive essay from the esteemed Glenn A Baker that helps place Cardier's quixotic career in its historical and cultural context.

It really is difficult to know where to start in reviewing the cornucopia of treasures contained here. The variety of sounds and approaches probably helps explain why Glenn Cardier has remained such a well-kept secret, rather than having to deal with the global recognition of superstar status. There's no doubt the songs here compare with anything being produced overseas at the time.

There are clear influences, from the bedrock early explosion of rock'n'roll, through the insightful observations of Dylan and the wit and whimsy of Randy Newman. Train spotting those influences doesn't really do justice to the original body of work Cardier creates. The "Glenn Cardier sound" is based around his distinctive voice and guitar. Vocally he can move from hedonistic growl to loving caress in seconds, and his guitar can be angelically delicate while shifting gear to howl from the hellhound depths of guttural blues.

Old Haunts is 46 wonderful tracks that show a truly remarkable depth of talent, insight, empathy and understanding of what it is to be human. There's a three song sequence on Disc 2 that encapsulates all of Cardier's qualities as a songwriter. One of the earliest songs in the collection, It's So Easy To Be Lonely, shimmers with sensitivity. It is followed by one of the most recent songs, the rollicking Late For Class, the best classic rock'n'roll song you've never heard. This gives way to All Through The Storm, a song of such aching beauty that it defies belief that it could languish in a vault for 40 years. One listen and you'll start listing all the songs that have been released in that time which should be forming a queue behind it.

Each disc is laden with such aural delights. Berlin Zoo takes you behind the scenes of an animal uprising after that institution was bombed in 1942. The title track, 1976's Old Haunts is clearly a Brisbane song. In this long lost gem we first meet the bottle blonde in pink chiffon that is brought so vividly to life on his wonderful 2004 album, House of Mirrors. In 1976 she was that unattainable ideal ghosting through old haunts, before arriving "free as the wind" in 2004's Wild in the Summertime. If you're familiar with Cardier's 21st century output, you'll have great fun tracing the development of the major themes in his work. You could start with Getaway Car or A Comedian's Joke, A Drummer's Role and work outwards from there in your journey through the concerns and priorities of "Cardier world."

Every teenage boy could surely identify with the simple guy in I Hate Girls. Who else could turn a song called If Hitler Played Guitar into a thought provoking piece of such rare beauty? He could challenge macho football culture in Nil All Draw, and then nail your heart to your chest with a song of such exquisite delicacy as Scarecrow. This is a songwriter who could do anything and everything, and perhaps that was always Glenn Cardier's problem in a commercial world that needs to categorise and label.

This is an exquisite set of recordings. To hear Not Everybody Gets To Know in all its GTK glory was a personal treat because it instantly transported me back to a special time in my life. The recording of Vegemite Sandwich Blues did the same, and in those two songs you get some idea of the vast distance Glenn Cardier has travelled. That he can still lodge so deeply into our hearts with 40 year old songs shows just what a special and unique talent he is. We are incredibly lucky to have him in our lives.
Lee Howard SUNDAY HERALD SUN Edition 1 – FIRST SUN 03 NOV 2002
Rattle the Cage Glenn Cardier (Independent)
In short//Rattling yarns
Glenn Cardier possesses a warm, worn voice that is at once familiar and elusive. His music probably best reflects the styling and singing of Englishman Chris Rea. But where Rea is more concerned with issues at the heart of pop music, Cardier is drawing the listener into his story-driven songs.
Titles such as Ringmaster Blues, Rust in the Tailfin and Sideshow Alley give fair indication that he casts his eye wide for topics. But then story songs need a sound basis for drama, power and humour.
At the end of the 14 songs, the abiding question is: Where has this bloke been?
The album is available from Fantastique Productions, PO Box 145, Brooklyn, NSW. Glenn Cardier plays Troubadour Weekend, at Campaspe Downs, November 15-17.
Keith Glass Review of 'Rattle The Cage' Rhythms Magazine 2002
I guess people have to have heard of you in the first place to fall into the 'whatever happened to' category, but for a while in the 1970's Cardier was a highly respected tunesmith. In Australia, unfortunately we didn't value the song or writer all that much back then, and so he hasn't so much come back as resurfaced.
His forte is slightly, delightfully off-centre songs that owe more to Tom Waits or Captain Beefheart than traditional folk sources.
Yet he knows how to make this palatable to those who might find such comparisons scary, so that the bluesy 'Rust In The Tailfin' or romping 'Shing-A-Ling' are just joyful , swampy groove pieces. 'Love Song' on the other hand, is a sensitive finger-picking muse on the mysteries of love, with some great lyrical work.
On the 14 tracks, only two side-persons are listed - on cello and accordion - so the thumping drums and gritty electric guitar must be Cardier, along with some excellent slide and acoustic guitar. Fine work all around. …..
Keith Glass
Review of 'House Of Mirrors' Sunday Herald Sun
4 stars
In short: Razor sharp, state of the art and cut to size.
Those with long memories might remember Cardier from the flowering of Australian singer-songwriters in the '70s. The more astute may have even noted his return via an interesting album of a few years back.
On this new release Glenn doesn't need such nostalgia. He is a man firmly embracing the new millennium with astounding electronically generated rhythmic bursts. A collage of keyboards and guitars mix with his biting vocal delivery and offbeat lyrics.
Think John Hiatt or Captain Beefheart taken to the cutting edge. This is a triumphant, completely solo project deserving a bigger audience. But Cardier is near media-invisible. Lucky for him it is a worldwide wilderness punctuated by safer harbours negotiable with the new media we have at our fingertips.
Sound bites online from this 10 original song CD should find the audience he so richly deserves.
Bernie Howitt
Review of Exiles From Eden
I've been hanging on to this one for quite a while before writing about it. If you're going to unleash a barrel of superlatives, you want to think about it first. I've listened to this in all sorts of situations: driving, reflecting, working. I once even tried to have it on in the background, but that's a path fraught with danger. This music is so compelling it demands that you listen. There's nothing casual about the album, and if you just try to have it on quietly to hum along to, it grabs you by the throat and makes you pay attention. After listening to "Exiles From Eden" a lot, I think it just may be the best Australian release this century. Certainly if you're adult, appreciate rock's rich heritage and understand that music is about an array of emotions, experiences and opportunities. Put simply this is an essential album if you're serious about music.
Opening with the title track, the underlying themes are established early. This is an album of reflection, of paths taken and paths ignored. It is a tribute to life that could only be written with a wealth of experience behind you. No twenty year old is going to understand that "if it falls apart…them's the breaks". Underpinning that understanding is the affirmation that when all is said and done, life is a positive. We all come to a place where all shall be forgiven. If you've ever reflected on those big questions of life at 2am, you'll understand that we are all exiles from Eden.
"Angelica" is a call to arms after the pensive opening. Cardier's call to "let the festivities begin, let the craziness commence" is the perfect set up to the rest of the album. With a hurrumpa tum beat driving the song forward, Cardier's vocal moves from his patented growl through to moments of real tenderness as he addresses his sweet Angelica directly. As his guitar work swirls and drives; two songs in and I'll be surprised if you're not already hooked.
To these ears "Cold Out There" is perhaps the best song on the album. Cardier juxtaposes a scene outside that's "colder than it's ever been", with an interior where there's a fire roaring to keep you safe. It captures the album in a song: no matter how bad life seems, no matter how desperate the circumstances, there's always our sense of belief that can pull us through. The melody stays with you, finding that place in your brain where all memorable moments eventually come to stay. With a mini "wall of sound" highlighted by the introduction of keyboards, this is a song that enters your head and your heart.
Love emerges as the ultimate redemptive force on this tour of the human condition, and Cardier rumbles a smiling warning to "Watch Out (Love Gonna Getcha)". This is the sound aficionados will recognise from the previous two albums. There's all the confusion and excitement of falling in love, a warning of what it can do to you, but ultimately when that meteor called love hits you, it "give the big, bad world a rosy glow".
If you've been with Cardier since the 1970's, you will be well aware of his capacity to write songs of such tenderness and sensitivity that in a just world they'd be on constant rotation on every romantic radio station in the world. "Invisible Ink" is the latest, and deserves to be acclaimed as a classic. I have heard this performed live, and it had a dramatic impact. The audience, hearing it for the very first time, were absolutely spellbound. There was a stunned silence as the song finished, no one daring to breathe in case the spell was broken. On disc, it reaches through the speakers and grabs you by the heart. Once heard, instantly loved.
There's obviously been a lot of thought gone into the sequencing of "Exiles From Eden". Just as "Invisible Ink" has you starting to melt, "Drive That Car" brings back the rockin' good ol' boy with his guitar slung low, just ready to rock, and kick a little ass if necessary. We all dream of escaping to "who the hell knows where", and Cardier lets us join him in his fuel driven romp.
The real world is kept at bay in "Life Of The Party". The redemptive power of love becomes the means to "live it up like there's no tomorrow". Tender, hopeful and beautifully sung, "Life Of The Party" is a glimpse into our secret desires as we dream of that perfect relationship that will enable us all to experience "a love that will last forever and ever".
"Flash Guitar" is the story song Cardier has always excelled in. In less sensitive hands this would've been a grumpy old man story, but Cardier has a lot more class than that. Telling the story of the discovery, loss and rediscovery of his "flash guitar", he could've simply turned it into a nostalgic romp. With the single line, "I had a big old stupid grin", he instead creates the universal joy of capturing the lightning of a past memory in a bottle.
"Water Into Wine" swaggers along with a grunt that makes "Uncharted Waters" seem all the more vulnerable. That heart wrenching moment of self doubt as you find yourself falling into a new relationship is captured perfectly in "Uncharted Waters". Is a human ever more vulnerable than at that moment when they're playing the possibilities out in their head? This song takes you exactly there, when you simply "want to gaze into your eyes and never wonder why…" The dream that keeps us all living.
The tenderness and humanity Cardier finds in "Uncharted Waters" helps sustain him when "you come undone". That's the time to "Face The Day", and eleven tracks in we're all as ready as we'll ever be. There's an optimism that shines through the doubts, and when you meet the object of his desire in "She's The One For Me", you can celebrate the joy and laughter as she dances on the table.
The frailties of self doubt aren't quite conquered as there's still a need to "Catch Me If I Fall". The album is a human story, and you know he really means it when he sings, "I promise not to break the promises I make", but you also know that he needs his love to "get me off my knees, lean me up against the wall".
By the album reaches a conclusion the jury's still out. Redemption or the path to hell? If you've lived life to the full, then love is redemptive, and ultimately "All's Well (That Ends Well)". This is the perfect closer to an album that is powerfully and unashamedly emotional.
"Exiles From Eden" is a great album for a number of reasons. Cardier has never played, sang or written better, and that in itself is really saying something. More importantly, he has crafted an album that is cohesive, compelling and utterly captivating. He lets you inside his head and his heart. It is that dazzling combination of intellect and emotion that helps make this a truly great album rather than a collection of wonderful songs.
And after listening to it in so many places, where is the best? A comfortable chair in front of a fire on a winter's eve has its claims, but if you really want to feel the impact of "Exiles From Eden" play it loud on a lonely, moonwashed and misty night, driving a country road with a hint of menace lurking just outside the arc of your headlights. You'll never forget it.
Michael Beaumont 2NSB FM 99.3
Review of 'Rattle The Cage'
Glenn Cardier Rattle the Cage. I dont review albums I dont like. So if you have scanned down the list and noticed the comments are largely favourable, that's why. However, that does make it tough to let you know when something really special arrives.
Glenn Cardier is a long time musical hero of mine. It was his song 'Lovers Alias Fools' many years ago that motivated me to play music. So I owe him a debt of gratitude that I will never be able to repay. His album Rattle the Cage is magic. I have had it on my headphones for a week now and each listen gives me a new thrill.
This is a world class singer-songwriter at his strongest. A strength that only seasoned performers and seasoned writers are capable of. His voice is not too far away from Tom Waits with a bit of Chris Smither. His song 'She Flew Away' was an instant favourite and I will enjoy playing 'Close encounter with a UFO' for years to come. THANKS GLENN.
Danny Drew
Review of 'House Of Mirrors' NT News
"A Follow-up That Won't Disappoint"
I can't help but feel there is a bit of Spike Milligan in Glenn Cardier's new album House Of Mirrors.
This new 10-track CD, containing all original material, journeys through moods of melancholy and joy, freedom and confinement and hope and despair. Track seven Mr Happy was even inspired by Milligan, a brilliant comic and one of the original Goons, whom Cardier toured with for six months in the 1980's.
Milligan was a man who felt the highs and lows, personally and professionally and there are certainly traces of that all through the House Of Mirrors CD. Cardier has fond memories of Milligan saying: 'He was very gracious and very good to me.'
Of Mr Happy, Cardier said: 'The song is about humour and how it works on different levels.'
Notwithstanding any Milligan influence, House Of Mirrors has the trademark gravely voice, echoing somewhat of Tom Waits, and the lyrics are definitely signatures of Cardier.
The imagery of dance is also prominent through the album in songs of love lost, found or yearned for. In the cover photo you can also see a reflection in Cardier's dark glasses of an elegant dancing couple.
House Of Mirrors also reflects Cardier's willingness to embrace electronica in his music with some thumping, bustling rhythms. Cardier picks up the pace with the rollicking Wild In The Summertime, which has a happy-go-lucky, back-to-the-70's beat and Asylum Blues, which has a similar up-tempo rhythm, admittedly with a vastly different lyrical content.
This album is the second in the rebirth of this renowned guitarist, vocalist and writer. Cardier's Territory fan base can take some of the credit for sparking his enthusiasm to tour and record on a wider scale. His 2003 shows at the Groove in Nightcliff sold out and on that basis ABC Radio made his comeback Rattle The Cage their CD of the week. It took off and the ABC was inundated with people wanting to know more about the CD.
Cardier's fans certainly won't be disappointed with his follow-up effort. House Of Mirrors is an Elbow Room production. All songs were written, performed and produced by Glenn Cardier.
Darwin fans can get a taste of Glenn Cardier's new material, as well as plenty of old favourites, when he performs live as a headline act at the Nightcliff Seabreeze Festival in May.
Chris Spencer
Review of House Of Mirrors
Glenn Cardier - Still Upbeat
Last year, when I reviewed a "comeback" CD of Glenn Cardier's, I was enthusiastic about his talents, his gravelly voice and his new direction. Late last year he released another album, as a follow up and the results are just as good.

This new CD continues Cardier's interest in upbeat, voodoo and New Orleans rhythms, balanced with slow ballads and quirky, unusual themes. An example of this latter material, is the centerpiece of the album, Elvis at the Checkout, which tells the story of Cardier meeting Elvis Presley in a supermarket. The track is a live favourite as Cardier relates his fascination with, and homage to, Presley.

I much prefer the upbeat songs – such as Water Finds it own Level, Wild in the Summertime (with its great Hammond organ), the title track) but Cardier is much too clever to record a whole album of similar material. His experience as a live performer shows his ability at pacing a performance, mixing faster tempo songs with slower material.

The slower songs here (Strangers, Dancing the Years Away, Come Back to me) are perhaps better described as poems set to music, as Cardier forces the listener to listen to the lyrics.
I also liked Asylum Blues, a blues shuffle, and the upbeat romp Mr Happy. I can't work out who this song is about – a politician? A record company exec? A real estate agent? A car salesman? – someone who promises the world but fails to deliver the goods.

The title track features a male choir which is effective, but should be used more often. Great voice, great production and arrangements, Great CD.
Mike Daly
Review of 'Rattle The Cage' The Age, 23rd August 2003
Glenn Cardier: there's a blast from the past, although the name will be familiar to baby boomer folk who used to frequent the Troubadour music restaurant in Brunswick St, Fitzroy from 1978 to 1990. This weekend the Troubadour turns 25 and Cardier is one of a host of musicians, both familiar and emerging, helping celebrate the occasion.
Cardier is an interesting character, a gravelly voiced singer with a stinging guitar technique and a resume that ranges from Sunbury appearances to tours with Frank Zappa, Fairport Convention and Spike Milligan.
Now based on the NSW Central Coast, he has recently released the self-produced 'Rattle The Cage'. a feisty CD that deserves a far wider airing than much of the commercial pap filling radio time today. The 14 tracks are originals, ranging from the bar-room electric boogie of Ringmaster Blues to a touch of Berlin cabaret on the bittersweet acoustic solo Sideshow Alley.
The perceptive Wouldn't Wanna Change A Thing and rueful She Flew Away remind me of John Prine. Cardier shares Prine's ability to distill personal emotions with a sense of self-deprecatiing humour.
Bill Holdsworth
Review of 'Rattle The Cage' RAVE Magazine
There was a time when Brisbane singer-songwriter Glenn Cardier looked like making it big. But despite being regarded by some critics as one of the great originals of Australian music, along with a handful of albums in the seventies and an extensive stay in Britain, it was not to be - he went into limbo for a long time (actually, he went to Sydney).
This is his first recording in over twenty years, but his trademark combination of incisive observation and skewed wit is still intact here, wrapped in a blues-infused rock that shows off his seasoned voice. The years have made his voice gruffer and occasionally craggier but he hasn' t lost his knack of juggling a genuinely sensitive moment with one that raises a wry smile.
So, on one hand, you get the moving simplicity of Love Song. But then, on the other, there's the swampy stomp of Rust In The Tailfin and the 50's-ish rock romp of Shing-A-Ling. Next (we're up to three hands now), his humour shifts into gear for Close Encounter (With A UFO). Then it's back to a touching but uplifting lilt about an escape from loneliness in She Flew Away. Meanwhile, a cut like Hawaiian Sands, running on drum machine, muted keyboards and spangly but stately guitar sounds both nostalgic and sardonic.
It's been a long time between drinks, but Cardier shows here why some think so highly of him.