GLENN CARDIER
Rhythms Magazine November 2016
TREVOR J. LEEDEN
View original interview PDF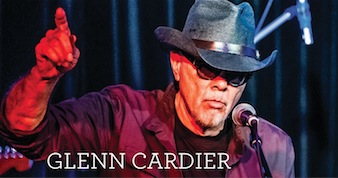 A quick glance at the Australian Blues And Roots Charts sees Cool Under Fire, Glenn Cardier's cracking new album, riding high. Cardier is no overnight sensation, having first carved out a successful career in the halcyon days of 7o's Oz music, touring with the likes of Daddy Cool, La De Das and Country Radio. He was one of the initial recipients (along with Greg Quill and Richard Clapton) of the Australia Council for the Arts travel grants and spent several years touring England. "The industry has changed since the 70's," reflects Glenn, "there are all kinds of grants available for musicians right now, but we need to nurture our younger writers here in Australia, we need more places to play here at home. We travel on the internet now".
Returning to Australia, disillusionment with the music industry ultimately saw him completely walk away for two decades. Glenn explains: "I taught school. I was a teacher of kids with behavioural and learning difficulties. I built my own studio. I thought I could write songs for other performers, but as it turned out I was the only one crazy enough to sing them! I did teach myself to produce and arrange though." The story then takes a truly bizarre turn, much like Glenn's idiosyncratic approach to songwriting. The catalyst for his 2002 re-entry into music with the extraordinary Rattle The Cage album is stranger than fiction: "During the 'Disillusionment Years', my friend Dennis Aubrey kept inviting me to perform a couple of songs at his open-mic night at the Excelsior Hotel in Surrey Hills. I eventually played and it was like reacquainting myself with an old friend, I wrote the song 'She Flew Away' the next day. My partner (now wife) Caroline had never heard of Loudon Wainwright III and I took her to the Enmore Theatre to see him; she loved him. I said, 'I used to sing stuff like that.' She didn't believe me; she had no idea of who I used to be! It occurred to me then and there I just might have let things slide a little bit, like for twenty years or so. I recorded Rattle The Cage as a gift for my friends and loved ones. ABC Darwin got hold of it, played the heck out of it and the rest, as they say, is history."
Fourteen years and five albums on, Cool Under Fire is a career high water mark that draws on Cardier's inspirations and memories, even drawing comparisons with Waits and Dylan. "In a UK review back in 75/76" states Glenn, " I was compared to Bruce Springsteen and I'd never even heard of him! With regard to Tom and Bob, I guess our voices all sound like we gargle with whisky, so 60 Rhythms there's a similarity there. It seems to me we all draw water from the same well. Cool Under Fire might be closer to Bruce's ethic as I chose to put all the classic rock'n'roll sounds I grew up with in a blender just to see what came out. Lyrically, I've always seemed to come at things from my own particular point of view". A lifetime of influences subtly run through the album: "I still try to get the Elvis echo going in my productions, I still shoot for the humour and simplicity of Leiber and Stoller" volunteers Glenn, "Win Some, Lose Some' definitely has a Turtles thing going on in the chorus, and on the title track I was trying to sing in a rappy style while channeling Gene Vincent " says Glenn, before adding "I performed at a charity event some years ago. Catherine Britt was on the bill, probably the headliner, and I was struck by the power of her voice. I needed a voice in that range on the title track. I tried singing the part myself in falsetto but it sounded like the Bee Gees' consumptive grandmother singing, so I sent off my request and couldn't believe it when she agreed. We recorded her part at her place in Newcastle; it was exactly what I envisaged. She's an extraordinary talent".
Glenn's currently a wanted man, having also contributed a sublime rendition of 'I'd Not Let You Be' to the recent Greg Quill tribute album: "I nailed that vocal in one take, rare for me. It was an honour to be among such esteemed company on 'Some Lonesome Picker'. There're some great performances on there". So how would a Glenn Cardier tribute album take shape? "That's a tough one," concedes Glenn. "You could arrange my music for any style and then pick the appropriate performers. I'm not sure if Marianne Faithfull still performs! In her heyday she'd give some of the Brechtian-styled songs a theatrical edge. I'd like to see a batch of my songs presented with new arrangements in a theatre setting by an ensemble cast...or maybe in a circus tent...or Luna Park".
From being a critically acclaimed 7o's cult figure, history is repeating in the 2000's, so what does the future hold for Glenn Cardier and The Sideshow? "We're a great band," says Glenn. "Our performances are powerful and magical. We should play more, which is probably my fault; I've always been a reluctant performer although once you get me on stage you can't get me off. After four years of recording Cool Under Fire I swore I'd never make another album, but in the past month or so I've just written three new songs. Who knows?"