In the 70's, Australian singer-songwriter/guitarist Glenn Cardier produced three albums of highly original folk/rock songs. He played the first two Sunbury festivals and worked with the likes of Frank Zappa, Spike Milligan, and Fairport Convention. He wrote songs for Olivia Newton-John. He broke through in the tough UK folk circuit.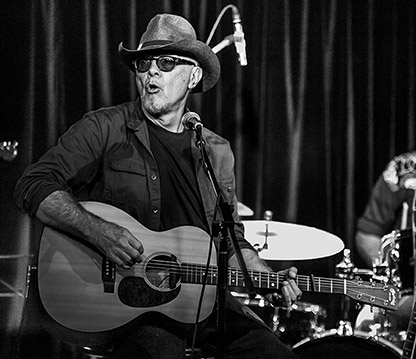 His hard-strumming, quirky onstage persona was always at odds with his recorded work and through the 80's and 90's Cardier's recording career stalled and he became increasingly reclusive. He surfaced occasionally – as front man for the Sydney pub band The Bel-Aires as well as playing rockabilly on his '59 Gretsch around the Central Coast of New South Wales.
Post 2000, Glenn Cardier's re-emergence as a songwriter / performer of real distinction has been nothing short of extraordinary. In typical single-minded fashion, he writes, performs and produces his music from his adobe home studio on the Hawksbury River, north of Sydney. Cardier usually plays all the instruments on his CDs.
Onstage, there are the trademark flashes of dark humour in his songs of stark beauty and thumping rockabilly/blues. There's a touch of Beefheart in his voice, a hint of Cohen in the lyrics, a pinch of Elvis here and there.
But underlying it all are the songs. Happy/sad songs. Sweet/crazy songs. Cardier songs.